Johnson & Johnson profit falls but beats forecasts
NEW YORK (Reuters) - Johnson & Johnson's second-quarter earnings fell almost 5 percent, but profit and revenue beat analyst forecasts helped by surprisingly resilient pharmaceutical and consumer product sales.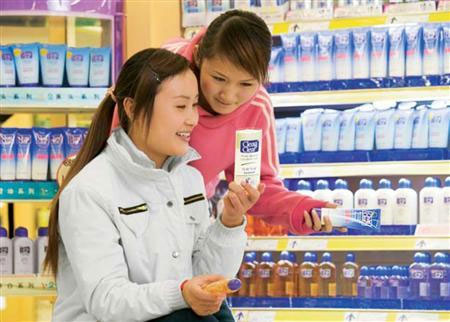 Image courtesy of Johnson & Johnson
Sales took a hit from patent expirations on its drugs for schizophrenia and epilepsy, but sales of its arthritis drug Remicade were better than expected.
"They went through a cost-cutting exercise about a year and a half ago, and it's definitely helping them with their earnings to date," said Jan Wald, an analyst with Noble Financial Group. "The surprise is more on the revenue side ... and that bodes well."
The diversified healthcare company, whose products range from Band-Aids to arthritis treatment Remicade, earned $3.21 billion, or $1.15 per share. That compared with $3.37 billion, or $1.18 per share, in the year-earlier period.
Analysts on average expected $1.11 per share, according to Reuters Estimates.
J&J's quarterly revenue fell 7.4 percent to $15.24 billion, but was $190 million higher than the Reuters Estimates forecast.
Sales would have been 6 percentage points higher if not for the stronger dollar, which hurts the value of overseas sales.
The company reaffirmed its full-year profit forecast of $4.45 to $4.55 per share, which excludes special items.
Sales of prescription drugs fell 13.3 percent to $5.5 billion, as patients opted for cheaper generic forms of J&J's Risperdal schizophrenia treatment and Topamax, an epilepsy pill that lost U.S. patent protection in recent months.
Topamax sales plunged 73 percent to $182 million, while Risperdal fell 66 percent to $239 million.
Even so, analysts said they had been girding for an even bigger decline in the pharmaceuticals business, amid the erosion of Risperdal and Topamax sales.
"The pharmaceutical business looked especially strong to us," Noble's Wald said. He pointed to arthritis drug Remicade, whose quarterly sales jumped 24 percent to $1.1 billion. Declines for Procrit and Eprex -- anemia drugs strapped with safety concerns, were not as bad as feared, he said.
Global sales of consumer products fell 4.5 percent to $3.85 billion, while sales of medical devices and diagnostics slipped 3.1 percent to $5.89 billion. Growing demand for the company's surgical products and orthopedics products was partly offset by lower sales of stents, tiny devices used to prop open coronary arteries that have been cleared of plaque.
"Consumer sales were strong as well, which is promising because that's the closest thing to the general public that Johnson & Johnson has so that might say something about the economy," Wald said.
J&J shares rose 63 cents to $58.35 in premarket trading.
(By Ransdell Pierson and Lewis Krauskopf. Editing by Derek Caney)
© Thomson Reuters 2018 All rights reserved.