Stable results for Brioni
Brioni stayed largely on course in 2008 with a decrease of 3% in its income. The luxury group, which has recently named Andrea Perrone in the hotseat, is now planning to accelerate its development in Asia and the Middle East.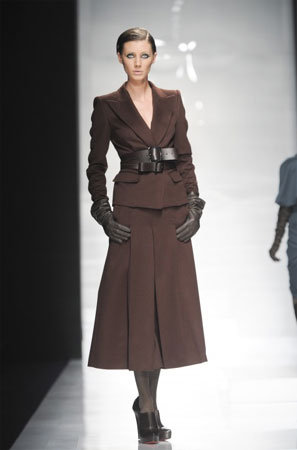 Brioni womenswear autumn-winter 2009/2010 in Milan
At 39 years old, Andrea Perrone, grandson of Brioni's co-founder Gaetano Savini, will from here on in be the sole CEO, a role that he had hitherto shared with Antonella De Simone and Antonio Bianchini.
As for results, the group has posted figures that show a certain stability. In fact, turnover in 2008 was €200 million, just €7 million less than the €207 million seen in 2007.
"We are satisfied with the group's results for 2008, but we are also aware of the challenges we will be confronted with in 2009, in particular in North America. However, we are well positioned to do so in the face of the global economic slow-down thanks to trust and cohesion," stated Andrea Perrone.
The group is counting on beginning its expansion plan for Asia and the Middle East with the opening of stores across Asia from September 2009. Priority is given to China; "the 'Made in Italy' tag is appreciated more and more by the Chinese elite", explained Mr Perrone.
Openings are also prepared for Barcelona, Venice, Düsseldorf and Hamburg. "In spite of the recession, we continue to have a faithful European clientele", he concluded.
By Jonathan Fulwell (Source: Sarah Ahssen)
Copyright © 2018 FashionNetwork.com All rights reserved.