Afghan women step into commerce
By Tahir Atmar
MAZAR-I-SHARIF, Afghanistan (Reuters) - Afghan woman Kamila Kabuli is causing a bit of a stir in the northern city of Mazar-i-Sharif just by selling cosmetics on the street.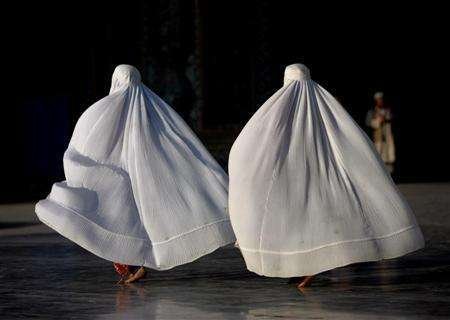 Kabuli, 35, runs a small stall at a busy city-center roundabout that was set up with the help of the provincial women's department, in a ground-breaking project aimed at getting women into a business long dominated by men.
In a conservative society where men have traditionally run all trade, the stalls are raising lots of eyebrows, some opposition and much approval.
"I'm very proud to have been chosen for this job although it is difficult. It can be a bit tough, but I can show that women can do it," said Kabuli, bundled up against the cold with a scarf wrapped over her head.
She said some shoppers, especially people coming in to the city from the countryside, were astonished to see a woman vendor.
"Sometimes men laugh at me, they whisper and say it's funny for women to run a shop. Some come here only to tease me," she said with a sigh.
The women's department has so far set up three women with stalls that sell handicrafts, clothes and cosmetics. It plans to open another 20 and rent them out to women in the next few weeks.
"Men and women have same rights. Women can also deal with people in the city. They can do trading and selling," said the department's head, Friba Majid.
Roqya, another woman stall-holder, said: "We are also a part of this society and can do what men can do."
OPPOSITION
Mazar-i-Sharif, like all of Afghanistan, is a conservative place although its residents, mostly hailing from northern ethnic minorities, always rejected the puritanical Taliban.
More than five years after the fall of the Taliban, many women still wear the all-enveloping burqa when venturing outside and few interact on a professional basis with men.
Many women appeared thrilled to see the female-run stalls.
"I heard about it but thought it might not be proper," said Zainab Mezghan, 22, as she bought lipstick from one stall.
"But I came and I'm very happy to see it. Now women can get stuff from women," she said.
Shopper Bibi Fatuma said women were more comfortable buying from women. "It's difficult for a woman to buy the stuff she needs from a man's shop. We feel relaxed buying from a woman's shop rather than a man's. We're very happy," she said.
Some men have also welcomed the project.
"I'm happy to see women doing business. It's a good move. We hope to have more and more women's shops here, it will make life easier for women," said Wakeel Ahmad.
But not everyone is upbeat.
"How can a woman run a shop? My God! Afghan women are practicing the democracy they have in the West. It is against our culture," said city resident Abdul Hamid.
Qari Azizullah, a prayer leader at a city mosque, said it was not proper for women to be shop keepers.
"In the current situation, women cannot open a shop in the city. According to Islam, they cannot deal with men. I am opposed to this idea," Azizullah said. But another cleric, Mullah Hekmat, said women could be shop keepers as long as they dressed appropriately.
"Even during the time of the Prophet Mohammad, women used to be involved in business ... women can sell stuff to people if they observe Islamic rules," Hekmat said.
But the stall owners are unfazed by criticism. They know they are providing a service that people want.
"Maybe 10 percent of people don't agree with women being shop-keepers but the rest, 90 percent, welcome us," said stall holder Bibi Raqeeba, wearing just a scarf over her head.
"A lot of women have expressed their happiness, they say they want a big market for women selling stuff."
© Thomson Reuters 2023 All rights reserved.