Luxury giants battle it out in menswear
PARIS - Buoyant demand for luxury menswear, driven by China's male-dominated market, has prompted big industry players such as LVMH (LVMH.PA) and PPR (PRTP.PA) to step up their investments in the fast-growing market.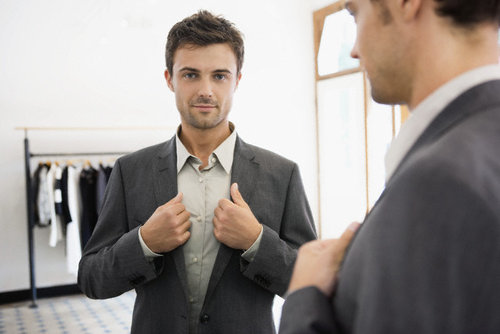 Photo: Corbis
Consultancy Bain & Co estimates the luxury menswear market, which makes up 40 percent of the global market, is worth 180 billion euros ($240 billion) and growing at about 14 percent a year, nearly double that of luxury womenswear at 8 percent.
"Menswear ... remains very underdeveloped compared to the woman's market, so there is a lot of catching up to do," said Jean-Marc Bellaiche, consultant at Boston Consulting Group.
Soon after PPR snapped up Italian tailor Brioni, LVMH said this month it had ambitious plans for its Berluti menswear brand, known for its 4,000-euro patent leather shoes worn by actors such as Johnny Depp and Ryan Gosling.
The world's biggest luxury group said Brioni would unveil its first ready-to-wear line at Paris menswear fashion week in January designed by Alessandro Sartori, who was poached from industry leader Ermenegildo Zegna last summer.
Analysts predict Brioni and Berluti will have to work hard to catch up with better-established rivals such as Hugo Boss, Burberry (BRBY.L), Armani, Dunhill (CFR.VX) and Ermenegildo Zegna, which makes just under half of its 1 billion-euro turnover in Asia.
"Notoriety is key to success as Chinese consumers only buy what they know," said Jason Ding, a partner at consultancy Roland Berger in Beijing.
Brioni, bought last month by PPR, which owns the Gucci and Yves Saint Laurent brands, is well known in Europe and North America but not so in China or elsewhere in Asia.
With PPR's financial firepower, Brioni, which makes sales of around 170 million euros, hopes to widen its global footprint as well as its product offering, particularly in leather goods.
Berluti, headed by Antoine Arnault, son of LVMH Chief Executive Bernard Arnault, has more of a presence in China than Brioni, but is one of the smaller players in the luxury menswear market, with sales estimated at 50 million euros.
China is the world's biggest luxury goods market in terms of growth, with sales rising on average about 20-25 percent a year, and men make up three-quarters of that market, estimated to be worth about 23 billion euros overall.
"At this pace, Chinese consumers will, in the medium-to-long term, make up 70 percent of the global luxury market's growth," said Bernard Malek, a partner at Roland Berger.
Analysts from CLSA Asia Pacific estimate Greater China, which includes Hong Kong, Macao and Taiwan, will make up 44 percent of the global market by 2020 against 17 percent today.
French luxury goods maker Hermes (HRMS.PA), a centuries-old provider of menswear luxury goods, said growth at its specialized men's shop in New York, which opened two years ago, was higher than its sales growth average in the United States.
"Our growth in the United States is about 30 percent and in our (menswear) store on Madison Avenue, it is higher than that," said Axel Dumas, head of operations.
Attracted by the potential of the men's market, Paris department store Printemps has just opened a corner dedicated to men's luxury accessories such as leather goods and shoes.
Tancrede de Lalun, head of fashion purchases at Printemps, said he expected the men's market to "explode ... because appetite is very strong and male consumers know no limit."
($1 = 0.7512 euros)
By Pascale Denis
(Writing by Astrid Wendlandt; Editing by Will Waterman)
© Thomson Reuters 2023 All rights reserved.