Strong retail sales boost holiday hopes
By Jessica Wohl
CHICAGO (Reuters) - U.S. retailers gave investors an early Christmas present, posting their first monthly sales increase in more than a year and suggesting wounded consumers might begin to heal in time for the crucial holiday season.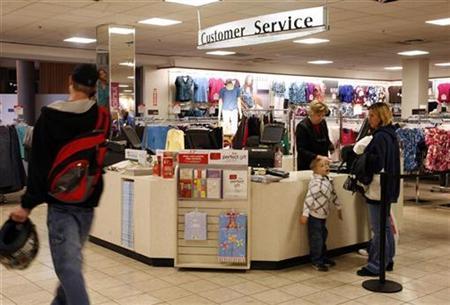 Chains such as Macy's Inc (M.N), Abercrombie & Fitch (ANF.N) and Kohl's Corp (KSS.N) surprised Wall Street on Thursday 8 October with better-than-expected September sales as shoppers headed back to stores for back-to-school purchases.
"It signals a bottom," said Wharton School marketing professor Stephen Hoch. "This month was not just not as bad as we thought it could be, but it was actually not so bad."
But retail experts cautioned that the sales results did not yet presage a consumer-driven recovery to the U.S. economy. The International Council of Shopping Centers said October same-store sales should be about flat with a year earlier.
"It might be too early to say consumers are actually coming back to the stores and spending more," said Booz & Co senior associate Marcelo Tau. "I still feel that there is a lot of pressure on consumers."
Based on 30 retailers, sales at stores open at least a year climbed 0.6 percent, compared with expectations for a 1.1 percent decline, according to Thomson Reuters data. Nearly 80 percent of the companies beat expectations.
The Standard & Poor's Retail Index .RLX rose 2 percent after the reports. Shares of American Eagle Outfitters Inc (AEO.N) jumped 8 percent, and fellow teen apparel retailer Abercrombie gained 5.8 percent.
September marked retailers' strongest showing since July 2008, when same-store sales rose 1.1 percent. It was also the first positive result since August 2008, when retailers notched a 0.2 percent gain just weeks before a financial markets collapse constricted credit worldwide and sent jobless rates climbing.
LATE LABOR DAY, EASIER COMPS HELP
This year's later Labor Day holiday pushed a good chunk of sales from August into September. Last month's results also benefited from easier comparisons with the year-earlier period, when same-store sales fell 0.9 percent, according to Thomson Reuters.
Analysts had wondered if rising unemployment would weigh more heavily on spending. On Thursday 8 October, a Labor Department report showed new U.S. jobless claims hit a nine-month low, suggesting the employment market was healing despite a September setback.
The holiday season poses a big test for retailers, which endured their worst winter in decades last year. The National Retail Federation expects U.S. holiday sales to fall 1 percent, on top of 2008's 3.4 percent decline.
But it will be easier for stores to show improvements as the year closes. In 2008, same-store sales fell 4.1 percent in October, 7.8 percent in November and 3.6 percent in December, according to Thomson Reuters.
"Last year was so horrendous, so most retailers won't really have a very high bar to jump over," the Wharton School's Hoch said.
Holiday spending could also be constrained by shoppers' aversion to debt. Total U.S. consumer credit posted a deeper-than-expected drop in August, suggesting a tendency to cut debt rather than spend.
"I think the consumer is dipping their toe back into the discretionary waters right now, but just their toe," said Retail Metrics President Ken Perkins.
PROFIT VIEWS BRIGHTEN
Several chains raised profit forecasts for the current quarter, including Aeropostale Inc (ARO.N), American Eagle and Gymboree Corp (GYMB.O). Target Corp (TGT.N) was also on that list, but kept a cautious view of its fiscal fourth quarter, which includes the holidays.
Sales of clothing for back-to-school fueled many retailers' performances. Stores such as Dillard's Inc (DDS.N), Kohl's (KSS.N), Nordstrom and Target noted demand for shoes.
At Macy's, sales fell 2.3 percent, half as much as analysts anticipated. Upscale rival Nordstrom Inc's (JWN.N) sales fell 2.4 percent, while analysts expected a 6 percent drop.
Teen apparel retailer Abercrombie saw same-store sales drop 18 percent, but that was better than the 21 percent decline predicted by analysts.
TJX Cos Inc (TJX.N), Kohl's, Limited Brands Inc (LTD.N) and Children's Place (PLCE.O) were among the retailers that posted same-store sales increases.
Gap Inc's (GPS.N) sales fell more than anticipated, but its shares climbed 1.8 percent. Margins came in significantly above last year and the value-oriented Old Navy chain posted its best same-store sales in more than 5 1/2 years.
Saks Inc (SKS.N) also missed expectations with an 11.6 percent decline as weakness persisted at its main Saks Fifth Avenue chain. Its shares fell 3.5 percent.
(Additional reporting by Brad Dorfman and Ben Klayman in Chicago; Nicole Maestri in San Francisco; Aarthi Sivaraman in Seattle; Editing by Michele Gershberg and Lisa Von Ahn)
© Thomson Reuters 2023 All rights reserved.