Adidas outlook disappoints in big sports year
FRANKFURT- German sportswear group Adidas (ADSGn.DE) stuck to forecasts for a slowdown in sales growth in 2012, disappointing investors who had hoped for more in a big year for sports events like the Olympics and European soccer championships.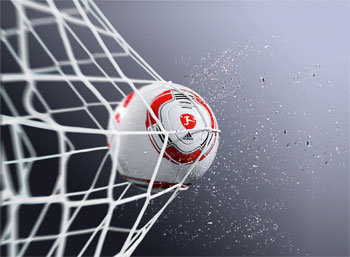 Photo : Adidas
The company said on Wednesday sales growth will slow to 5-9 percent on a currency-neutral basis from the 13 percent reported for 2011. Analysts described this as a cautious move from a company that upgraded forecasts four times in 2011.
"2012 guidance is seen as a little low - it is below Puma guidance and below Nike order backlogs," Silvia Quandt analyst Mark Josefson said.
Adidas, the world's second largest sporting goods group behind Nike (NKE.N), grew sales and earnings to record levels in 2011, as consumers in China and Eastern Europe flocked to buy its three-stripe products.
Adidas shares, which touched record highs of above 60 euros in February, were down 2.4 percent at 56.37 euros at 0831 GMT, the biggest faller on Germany's Dax index of leading shares.
Smaller German rival Puma (PUMG.DE), controlled by French luxury goods group PPR (PRTP.PA), said last month it expected a near 10 percent rise in group sales for 2012, while Nike in December said future orders were up 13 percent.
The three have enjoyed strong growth over the last year, as fashion-conscious Chinese and Russian consumers snap up big brands and running fans stock up on the latest high-tech products in the United States.
In 2012, the big sportswear brands are courting soccer fans ahead of the UEFA European championships in Poland and Ukraine that starts in June.
Adidas has previously said it expects record soccer sales of over 1.5 billion euros ($1.97 billion), while Puma is stepping up investments, signing deals with players such as Barcelona's Cesc Fabregas, to try and close the gap in the sport on its larger rivals.
Adidas, which also owns the Reebok brand, confirmed a forecast for earnings per share to rise by between 10 and 15 percent to around 3.52-3.68 euros in 2012, equivalent to net income of 736-770 million euros.
The group reported 2011 sales of 13.3 billion euros and operating profit of 1.01 billion, in line with expectations in a Reuters poll.
Adidas itself had predicted a near 12 percent rise in sales in November, the fourth time it had increased its sales outlook for 2011.
(Reporting by Victoria Bryan; Editing by Jodie Ginsberg and Jane Merriman)
© Thomson Reuters 2023 All rights reserved.