Arcandor's future without a government bailout
FRANKFURT, June 4 (Reuters) - Germany's Economy Ministry has dampened Arcandor's (AROG.DE) hopes of getting help from a government bailout fund but said the stricken retail and tourism group could explore other ways of seeking state aid.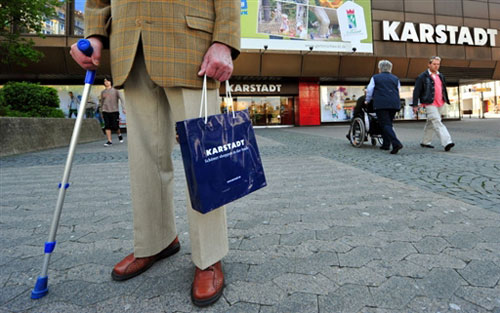 Photo : Torsten Silz/AFP
Germany is offering more than 100 billion euros ($141.7 billion) in temporary aid to companies hit by the crisis.
But granting aid to Arcandor, whose troubles predate the crisis, is a controversial issue that has become increasingly politicised ahead of a federal election in September.
The European Commission signalled this week that Arcandor may not qualify for state aid under the temporary framework, prompting German Economy Minister Karl-Theodor zu Guttenberg to say the German rescue fund could not be used for Arcandor.
Here are some scenarios for Arcandor if it is denied access to Berlin's rescue fund.
OTHER STATE AID
Under European Union law, troubled companies can apply for rescue aid from local governments in the form of state loans or loan guarantees limited to six months.
After six months, aid will be withdrawn unless the company presents a restructuring plan that ensures long-term stability and avoids distortion of competition.
The EU Commission approves such restructuring aid requests mostly by imposing conditions, such as divesting assets.
Germany Economy Minister zu Guttenberg has already said any aid approved by the EU would probably involve huge job losses and could lead to "capacity cuts" of at least 30 percent.
Arcandor may also apply for a loan from the state bank KfW.
Arcandor said aid from the government's Germany Fund was still its preferred solution, but it was also examining alternatives for which it would apply this week.
Commerzbank analyst Juergen Elfers said investors should take a cautious stance on the recovery potential for Arcandor. "State support would buy time, but operations are in tough waters," he said in a note to clients.
Arcandor's management has restructured businesses in the last five consecutive years, wiping out at least 3.1 billion euros in shareholder profits, and yet operating and pre-tax profit margins remain stubbornly poor, he said.
INSOLVENCY
Arcandor has warned it could go insolvent if it does not get more than $1 billion in state aid.
Filing for insolvency must not necessarily mean the end for Arcandor. It would make it easier to cancel and renegotiate supply contracts, while the German Federal Labour Office would pay salaries for three months at the maximum.
Arcandor may also be bought by an investor and in that case it would be transferred into a so-called rescue company, which will be free of debt to assure a clean start for the new owner.
But insolvency could also lead to a break-up.
BREAK-UP
Guttenberg told German radio on Thursday 4 June that it was time for Arcandor to seek investor-driven solutions to its woes.
German retailer Metro (MEOG.DE) is against state aid for its rival, a step it said that would distort competition. It has instead proposed merging the companies' department store chains -- Kaufhof and Karstadt -- to create a national champion.
German Foreign Minister Frank-Walter Steinmeier, a Social Democrat who will challenge conservative Chancellor Angela Merkel in September's election, is in favour of such an idea and met Metro Chief Executive Eckhard Cordes on Thursday 4 June for talks.
But Metro is only interested in Karstadt's operating business and does not want to take on any of its rival's debt.
Spinning off its department store business would ease Arcandor's cash drain but leave it with a debt load that it would only be able to service by selling off other parts, such as its roughly 52-percent stake in Thomas Cook (TCG.L).
Arcandor Chief Executive Karl-Gerhard Eick has dismissed such a move, saying it would not solve its problems because Thomas Cook shares had dropped so much in value that the proceeds would not be sufficient to pay back its loans.
Arcandor also pointed out that a merger could not be concluded by June 12, by when it needs to renew a 650 million euros credit line. It has warned it may not survive if it fails to do so.
TAKEOVER BY MAJOR SHAREHOLDERS
Arcandor's major shareholders Oppenheim Holding and Madeleine Schickedanz -- heiress to mail-order firm Quelle's founder Gustav Schickedanz -- have rejected rumours they were considering a complete takeover of the group.
They hold a combined stake of about 55 percent in Arcandor.
But Oppenheim said on Thursday 4 June it would be prepared to support Arcandor in every possible way to secure its future.
German Finance Minister Peer Steinbrueck said on Wednesday 3 June that there was currently no sign of outside investors showing interest in Arcandor.
(Reporting by Eva Kuehnen, Philipp Halstrick, Nikola Rotscheroth in Duesseldorf, Rene Wagner in Berlin and Ilona Wissenbach in Brussels)
© Thomson Reuters 2023 All rights reserved.