Burberry bets on top cities to weather downturn
LONDON - Luxury goods group Burberry is to stick with ambitious expansion plans, saying demand in top cities like Hong Kong, London and New York would prove resilient in any downturn.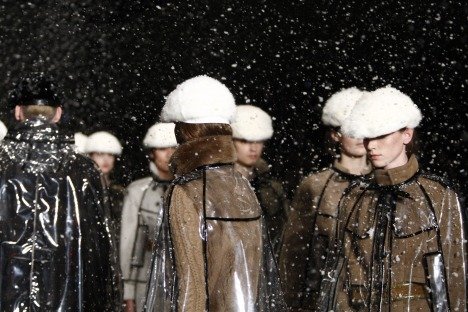 Burberry Prorsum AW 2011-12 / Photo: Pixel Formula
Chief executive Angela Ahrendts said on Tuesday the 155-year-old maker of raincoats and leather goods made 60 percent of retail revenue in 25 cities that are home to the world's wealthiest individuals and attract high numbers of tourists.
"Those top 25 markets are much more sheltered during a downturn," she told reporters after Burberry met forecasts with a 26 percent rise in first-half profit.
Ahrendts said Burberry, which responded rapidly to the 2008-09 recession by slashing jobs and stock levels, was ready to react again if there were signs of a slowdown. So far, it remained focussed on expansion plans which include opening 8-10 stores in the second half of its financial year.
"We know exactly what levers to pull should we need to. But, honestly, we are not overtly focussed there," she said.
"We are intently focussed right now on optimising the brand momentum that we have around the world and the luxury sector which is still planned up another 10 percent this year."
Luxury shares have wobbled in recent months amid signs of a slowdown in economic growth in China -- the engine of recent strong demand for high-end goods -- and fears the euro zone debt crisis could drag the world back into recession.
Industry heavyweights like Hermes, Hugo Boss, LVMH and PPR have calmed nerves with strong sales figures in recent weeks. However, Cartier jewellery-maker Richemont on Friday struck a cautious tone.
Burberry shares, which had bounced back from an October low of 1,034 pence, were down 4.8 percent at 1,353 pence at 10 a.m., to be the biggest fall on the FTSE-100 index.
Morgan Stanley analysts said while the company had good momentum, there was little scope for profit forecast upgrades.
Nomura analysts noted Burberry shares trade at 20 times forecast earnings, compared with a multiple of 16 for the luxury sector, and kept a neutral rating on the stock.
IN BETTER SHAPE
Burberry, best known for its camel, red and black check pattern, made a profit before tax and one-off items of 162 million pounds in the six months to September, compared with a forecast for 159 million in a Reuters poll.
Last month, the group beat forecasts with a 29 percent increase in second-quarter revenue.
Finance director Stacey Cartwright said Burberry was in a better position to cope with any renewed economic downturn than three years ago, not least because it had better ordering systems that meant it did not have to carry high stock levels.
The group plans to increase retail selling space by about 15 percent in its second half, including new stores in Paris, China and Latin America.
The interim dividend was raised 40 percent to 7 pence, in part to rebalance the payout across the year.
By Mark Potter

(Editing by James Davey and Dan Lalor)
© Thomson Reuters 2023 All rights reserved.