Disney hits new markets with retail makeover
Jan 11 - Riding on the success of its recently renovated stores in tourist hotspots including New York, Walt Disney Co is taking its new, highly interactive, retail format to upscale malls in newer markets, on both sides of the Atlantic.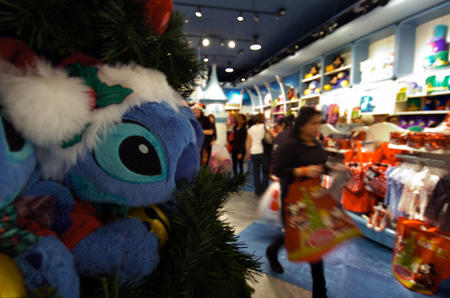 Disney store in Lakewood, California, USA
The company is on target to open at least 25 new and remodeled locations in North America and Europe in 2011, Jim Fielding, president of Disney Stores Worldwide, said in an interview ahead of the National Retail Federation convention in New York.
"The success of our first 19 (renovated) stores that we rolled out last year, has definitely created the right amount of traffic and the right amount of positive feelings from the mall landlords that they do want to have the conversations with us about continuing the rollout," Fielding said.
The new retail format sports more features to entertain shoppers, such as a table where kids can assemble cars from the popular Disney-Pixar "Cars" movie to a two-story princess castle that kids can enter.
The move comes at a time when consumer spending, the biggest driver of the U.S. economy, is still not back to pre-recession levels, and Europe is yet to perk up.
"We feel if we offer one great store in the city of Dublin that will really create a true Disney destination, even in the face of challenging economic times, we can still be successful," he said.
Disney plans to open stores in North American markets, ranging from Canada to Puerto Rico to Atlanta, Georgia, and in European countries which have never had a Disney Store before like Denmark, Ireland and Belgium.
"Our strategy is really to focus on premier malls and premier shopping locations across the United States and Europe," Fielding said.
That contrasts sharply with the mantra of many U.S. retailers, which are moving beyond their home turf and looking at rapidly growing economies such as India and China for future sales growth.
"We try to move to countries where there is already a strong affinity for the Disney brand and where we have a strong receptivity to our content," he said.
Disney, which already has more than 200 North American stores, more than 40 locations in Japan and more than 100 outlets in Europe, said it aims to convert all of its current stores to the new format as part of a 5-year plan.
By Dhanya Skariachan
(Editing by Anshuman Daga)
© Thomson Reuters 2022 All rights reserved.