Hermes takes stake in watch case maker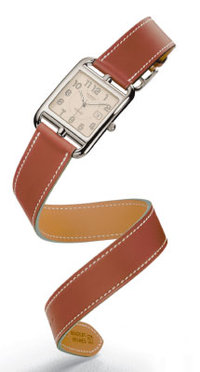 Photo: Hermès
ZURICH, Sept 29 (Reuters) - French handbag maker Hermes said on Thursday its watch unit was taking a 32.5 percent stake in family-owned Swiss watch case maker Joseph Erard, in the latest sign that big luxury groups are keen to snap up watch part makers.
"This newly acquired stake... gives us the opportunity to pursue the development of our watchmaking expertise while reinforcing our privileged access to an essential component," said Guillaume de Seynes, chairman of La Montre Hermes.
The move is one of a series of recent buys in watch component making as big luxury goods group seek to secure access to watchmaking know-how to improve their growth potential in the lucrative timepiece business.
This summer, luxury giant LVMH snapped up small Swiss watchmaker La Fabrique du Temps, and French retailer and luxury goods group PPR raised its stake in family-owned Sowind Group to 50.1 percent.
Hermes, best known for its Birkin bag, recorded 30 percent sales growth in watches in the first half, driven by strong appetite for shiny watches in Asia.
Securing access to watch components becomes increasingly important for the rivals of the world's biggest watchmaker Swatch Group , that is currently providing the lion's share of parts to the industry but has taken steps to reduce deliveries from next year.
Joseph Erard Holding, which is based in Le Noirmont in the Swiss Jura mountains close to the French border, specialises in high-end watch cases and employs about 60 people. No financial details of the transaction were disclosed.
(Reporting by Elena Berton and Silke Koltrowitz; Editing by Mike Nesbit)
© Thomson Reuters 2023 All rights reserved.