Hugo Boss to raise 2015 margin target
August 10 - Hugo Boss is set to raise its 2015 profit margin target this fall, helped by the vigour of the global luxury market and improved productivity, sources close to the German fashion brand said.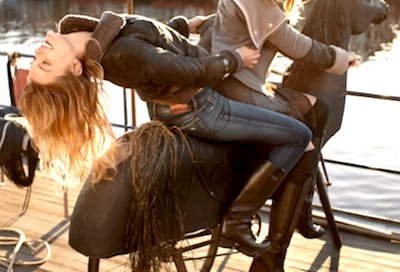 Think Orange campaign by Boss Orange
The maker of sharply cut men's suits has already met its 2015 underlying profit margin target while bigger luxury rivals such as PPR, LVMH and Burberry published record results last month.
"If we don't get a recession, Hugo Boss is on track to raise its midterm target," a source close to Hugo Boss told Reuters.
Hugo Boss posted a margin for EBITDA (earnings before interest, depreciation and amortisation) of 20.6 percent at the end of June, already above its 2015 target of 20 percent which it repeated in March.
Even if stock markets became more bearish, which would impact the portfolios of the affluent potential buyers of Hugo Boss suits, several analysts said they still expected the company to lift its 2015 target on its investor day of Nov. 8
"Many analysts are expecting Hugo Boss to raise their guidance," Commerzbank analyst Andreas Riemann said.
Analysts said they expected the company to raise its 2015 EBITDA margin to at least 23-24 percent while they see the margin reaching 22.8 percent on a full-year basis in 2011, up from 20.2 percent in 2010 and 17.1 percent in 2009.
"Anything below 23 percent would be a disappointment," one Frankfurt-based analyst said. "They would have to raise their guidance as otherwise, it would mean they are going backwards."
On Wednesday, Hugo Boss shares, which have gained 22 percent since Jan. 1, were up nearly 7 percent at 67.88 euros by 1057 GMT, outperforming the DAX .GDAXI index of German blue chips which was up 2 percent.
Hugo Boss is controlled by private equity firm Permira which has a 72 percent stake. The Marzotto family, one of Italy's best-known textile names, also owns Hugo Boss shares indirectly through investments in Permira.
In spite of the stock price rise, a source close to the company's shareholders said they were not planning to cash in on their investment for now.

MORE TIGHTLY RUN

The luxury goods market has been surprisingly buoyant in spite of concerns about a potential consumer spending slowdown.
Hugo Boss is reaping the fruits of its expansion in the United States and Asia in recent years, analysts say.
The business is also more tightly run, improving its ability to respond to regional tastes and changes in demand and getting its products to market faster.
The time it takes for an Hugo Boss product to hit the shops once designed has been cut to about 38 days on average from 50 days two years ago.
Hugo Boss is also refreshing collections in its boutiques more often, which helps attract customers and sell fewer items at a discount, analysts say.
Founded by Hugo Ferdinand Boss in 1924 in Metzingen, Germany where the company is still based, the brand is mainly known for its high-end men's ready-to-wear but has been expanding its women's line in recent years.
Last month, Hugo Boss raised its 2011 targets for sales growth to 15-17 percent against at least 12 percent and Ebitda growth of 25-30 percent versus at least 15 percent previously.

(Reporting by Astrid Wendlandt and Philipp Halstrick; Editing by Christian Plumb)
© Thomson Reuters 2023 All rights reserved.