Kenneth Cole posts narrower-than-expected second quarter loss
BANGALORE, Aug 6 (Reuters) - U.S. shoe and clothing maker Kenneth Cole Productions Inc (KCP.N) posted a narrower-than-expected quarterly loss, helped by tight cost control and inventory management, and forecast a surprise third-quarter loss.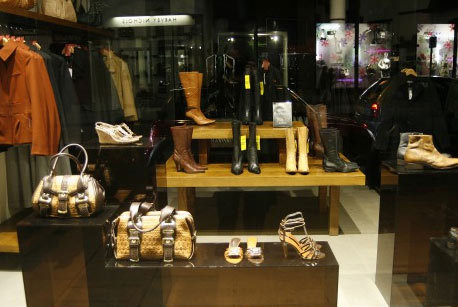 Kenneth Cole boutique on Sloane Street, London - Photo: PixelFormula
For the third quarter, Kenneth Cole expects a loss of 3 cents to 8 cents a share, on revenue of $100 million to $105 million, a company executive said on a conference call with analysts.
Four analysts on average were looking for a profit of 6 cents a share, before special items, while two analysts were expecting revenue of $123.4 million, according to Reuters Estimates.
"While we believe sales will remain under pressure we expect to see continued improvement in gross margin and total expenses to be down versus last year," a company executive said.
Kenneth Cole said it expects to report an operating profit in the fourth quarter.
The company may expect its top line to improve in the fourth quarter, Sterne Agee Leach analyst Sam Poser said.
LOWER EXPENSES, INVENTORY
Net loss was $3.3 million, or 18 cents per share, in the second quarter, compared with a loss of $2.1 million, or 11 cents a share, a year ago.
Net revenue fell 16 percent to $93.9 million.
Analysts on average expected a loss of 28 cents per share, before special items, on revenue of $93.8 million, according to Reuters Estimates.
Total operating expenses fell 8 percent to $45.0 million.
Inventory at the close of the quarter was down 28 percent at $35.1 million, from $48.8 million a year ago.
Kenneth Cole, which sells its products at Macy's, Nordstrom and other department stores and at company-owned retail stores, has been forced to slash costs and reduce inventory to contend with slumping sales.
Shares of the company closed at $8.40 Thursday 6 August on the New York Stock Exchange. (Reporting by Viraj Nair in Bangalore; Editing by Anne Pallivathuckal)
© Thomson Reuters 2023 All rights reserved.