Kenzo Homme with new Opening Ceremony
Still as colorful, still pop, but a little less ethnic, with a preppy and well mannered side, the Kenzo man emerging from the first collection designed by Humberto Leon and Carol Lim (the duo behind the cult hit Opening Ceremony) goes back to the basics of the Japanese fashion house. The silhouettes, which are slender and smart, will appeal to a younger audience, with their fun paisley prints, large argyles and touches of neon colors (an orange jacket, a cherry-red parka, an apple-green belt). Sneakers in flashy hues and colorful ascots lighten up the serious side of perfectly-tailored jackets and suits.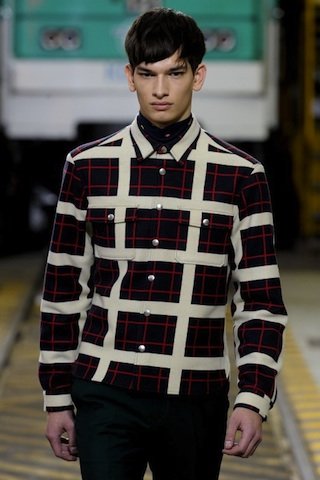 Kenzo AW 2012/2013 - Photo: PixelFormula

Housed in an RATP depot, the runway show immediately highlighted the label's urban positioning. "The Kenzo man," confirm the designers, "is in constant motion and his wardrobe must keep up with his metamorphoses. For him, comfort is paramount." Carol Lim adds: "the accessories come with practical details, because that's what we like to make: functional pieces."


Less bohemian and more hip, the Kenzo collection designed by Leon and Lim reflects the brand's desire to reconnect with its audience, which in recent seasons had been a little flighty and disappointing with its loss of attention. Indeed it was precisely to re-energize the brand and "to appeal directly to the younger generation," that Leon and Lim were chosen, according to CEO, Pierre-Yves Roussel.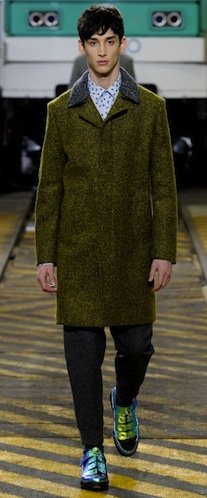 Slender silhouette - Photo: Pixel Formula

Meanwhile, the arrival of the two designers has given ideas to Patrick Guedj, Artistic Director of Kenzo perfumes. A joint project between the fashion and beauty branches beauty, which should come into being this year, is already under development, although it is yet unclear what it might entail.
Silvia Manzoni
Copyright © 2023 FashionNetwork.com All rights reserved.