Metro says risks to profit target have grown
August 3 - Metro, the world's No.4 retailer, said risks to its 2011 profit target had grown as the global economic recovery falters and shoppers fret about the European debt crisis and higher food prices.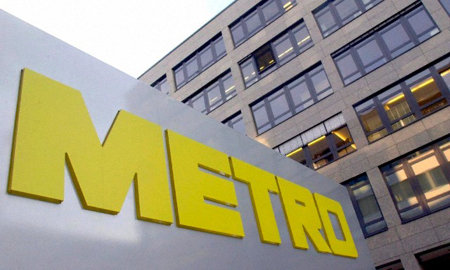 Metro logo seen in front of the group's headquarters in Duesseldorf, Germany
The German group's shares dropped over 4 percent to a near two-year low on Tuesday after it missed forecasts with an 8 percent drop in second-quarter underlying earnings.
That was mainly due to losses at its Media Markt Saturn (MMS) electricals arm, flagged at an investor day last week, as shoppers cut back on discretionary purchases and the firm lowered prices to compete with online rivals.
Metro, which also runs cash and carry wholesale outlets, hypermarkets and department stores, reiterated its target to grow full-year profit by 10 percent to about 2.66 billion euros ($3.8 billion), helped by a plan to slash costs at MMS and to accelerate growth online.
But it said this would depend on the continuation of an increasingly shaky economic recovery.
"The risk-reward profile has adversely changed," it said.
Bernstein analyst Chris Hogbin said Metro faced a battle.
"First-half operating profit was down 4 percent and so it requires the second half to be up 13 percent to get to their (full-year target) numbers," he said.
At 0740 GMT, Metro shares were down 4.1 percent at 36.25 euros, underperforming a 0.9 percent fall on the STOXX Europe 600 retail index .SXRP.
Many of Europe's retailers are having a tough time as shoppers are squeezed by rising prices, subdued wages growth and government austerity measures, with only discounters like Germany's Aldi and Lidl and luxury groups focused on more affluent shoppers performing consistently well.
Data last week showed a bigger-than-expected drop in euro zone economic sentiment, while the region's biggest retailer, France's Carrefour issued a profit warning in July.
Metro boss Eckhard Cordes said leading economic indicators pointed toward declining global growth in the second half, with key markets stable or slightly positive.
NO CATALYST
Many analysts were already skeptical of Metro's profit goal, forecasting on average a 6.7 percent rise in 2011 profits, according to Thomson Reuters I/B/E/S Estimates.
The group's cautious comments, plus weaker-than-expected second-quarter numbers, could see profit forecasts nudge still lower, Espirito Santo analysts said.
Bernstein's Hogbin said much of the bad news was already priced into Metro's shares, which have slumped over 30 percent this year, underperforming sector peers by about 24 percent.
But with about 70 percent of annual profits made in the fourth quarter, investors were likely to remain in a "wait-and-see" mode, he said.
"Everyone thinks this is a cheap stock. The problem investors have is there's no catalyst," Hogbin said.
Metro, with over 2,100 stores in 33 countries, reported a 0.2 percent rise in second-quarter sales to 15.74 billion euros, while earnings before interest, tax and one-off items dropped 8 percent to 306 million.
Analysts had on average been expecting sales of 15.85 billion euros and underlying earnings of 327 million, according to a Reuters poll.
At MMS, Europe's largest electricals retailer, sales at stores open for over a year fell 5.2 percent.
Metro has been boosting profits with its "Shape 2012" program to cut costs and improve productivity, which aims to add 1.5 billion euros to earnings by the end of next year.
The group also said in June it was holding informal talks with investors over the possible sale or spin-off of its Real hypermarkets and Kaufhof department stores as it looks to focus on MMS and its cash and carries, which analysts believe have greater potential to expand in fast-growing emerging markets.
Cordes told analysts he had options for Real and was open to the possibility of doing a deal this year.
He was prepared to team up with a partner for Kaufhof if the price was right, but had not opened its books, he added.

(additional reporting by Mark Potter; editing by Sophie Walker)
© Thomson Reuters 2023 All rights reserved.