Metro sees stagnant profit in shaky economy
DUSSELDORF - German group Metro, the world's fourth-largest retailer, forecast flat profit this year due to a stuttering global economy and costs from expanding its cash-and-carry and consumer electricals stores businesses.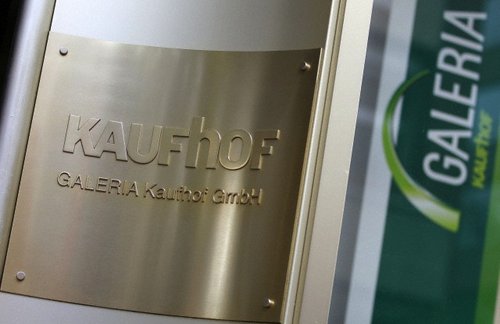 Galeria Kaufhof, part of Metro Group / Photo: Corbis

Metro, which also runs hypermarkets and department stores, said on Tuesday it would be 2013 before investors could expect an increase in profit, as it reported a 1.8 percent decline in 2011 earnings before interest, tax and special items (adjusted EBIT) to 2.37 billion euros ($3.1 billion).
Metro, forced to scrap its profit target in 2011 as the global economy worsened, said sales should grow in 2012 but cautioned the outlook included an element of risk as high unemployment and austerity programmes in Europe weigh on consumer spending.
"2011 was not too pleasing and we can't hope that 2012 will be any better," Chief Executive Olaf Koch told reporters.
Analysts on average forecast Metro's adjusted EBIT to fall to 2.35 billion euros in 2012 and sales to rise to 67.1 billion from 66.7 billion, according to a Reuters poll.
Retail sales in Germany, Europe's strongest economy, fell unexpectedly in January, as mild weather stifled spending. European retail sales on the other hand, showed shoppers in the Euro zone increased spending, although economists cautioned the three-month trend still showed a contraction.
Metro, which operates almost 2,200 stores in 33 countries, gets almost 39 percent of its total sales from Germany, with a further 31.3 percent coming from western Europe.
Even in Germany, it struggled over the last year, with like-for-like sales - stripping out the effect of store closures - either falling or remaining stable at each of its four units.
Metro's caution on 2012 comes after French rival Carrefour slashed its dividend and halted investment plans and Tesco jettisoned the head of its UK business following a shock profit warning.
Nonetheless, shares in Metro rose as much as 4 percent, with traders saying news that hypermarkets chief Joel Saveuse was stepping down was fanning speculation Metro may sell its Real chain soon.
Koch said the board would give Real more time to meet its targets before discussing its future, cooling off the shares slightly, which were still up 1.2 percent and top blue-chip gainer in Germany at 1047 GMT.
"I don't see it being cut from the portfolio just yet," Koch said.
CULTURE CHANGE
Koch , who at 41 years of age is the youngest serving CEO of a German blue-chip company, said the group needed a "culture change" and to work more on improving sales, a departure from predecessor Eckhard Cordes, who had sought to boost earnings via cost-cutting.
Koch, who took over in January, said he would focus efforts to expand and improve sales on Cash & Carry and Media-Saturn, Europe's largest chain of consumer electricals stores.
Expansion would mainly focus on eastern Europe and Asia, he said, with Cash & Carry, which accounts for almost half of sales, to offer more own brands, delivery options and services to small and medium-sized customers.
Cordes had hoped to sell department store Kaufhof and Real to focus firmly on Cash & Carry and Media-Saturn, seen as offering the greatest sales and profits for the group, but Koch put the sale process of Kaufhof on ice in mid-January, saying financing conditions for buyers weren't right.
He reiterated on Tuesday that Metro would only look to sell the unit on certain conditions, such as agreeing a future strategy and getting a fair value for the chain, which it has previously valued at between 2-3 billion euros.
Metro's fourth-quarter adjusted EBIT was in line with expectations at 1.3 billion euros, but net income after minority interests dropped to 404 million in the final quarter, compared with expectations in a Reuters poll for 633 million.
Metro said that was down to currency effects and costs from its Shape 2012 restructuring programme.
© Thomson Reuters 2023 All rights reserved.