Munich Fabric Start : 4% increase in attendance
Munich Fabric Start remains true to its convivial and studious image. The fabric show, which closed its doors on February 2nd, saw its attendance grow by 4% over one year to 17,600 persons.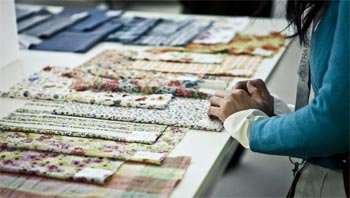 Munich Fabric Start held multiple conferences on fashion trends as well as on the economy. (Photo DR)
The show remains quite German-dominated, with exhibitors talking about some 80% of buyers hailing from Germany. "For French companies that target the German market, this is the leading trade fair," said Agnes Elisabelar of Espace Textile in Lyon.
For others, such as the Grain de Malice team, the show was an opportunity to meet suppliers who are not in Milan and Paris. "For us it is an important event. This is the debut for the collections and many suppliers, especially in accessories, do not do other European shows," said Jochen Digel, board member of his eponymous company, which specializes in modular suits and sportswear.
The organisers have noted the presence of companies such as Mustang, Drykorn, C&A, H&M, Marc O'Polo, Tommy Hilfiger, Hugo Boss, Armani ou encore Jean Paul Gaultier. "We came with more than fifty people," said Kevin Lobo, creative director of Boss Black. Among the trends highlighted were the color yellow and sustainable development. Spring/Summer 2013 promises to be equally complicated in terms of visibility. "It's an interesting show but there is stiff competition in terms of price. The Turks, for example, have a very strong presence in the German market. We provide French brands while the major labels find us too expensive. How do you explain this," asks Jacky Haeffelin, commercial director of Virtuose, which will be showing in the new segment dedicated to weaves for high-end shirts.
Copyright © 2023 FashionNetwork.com All rights reserved.