PPR eyes Brioni for around 350 mln eur - sources
PARIS, July 27 (Reuters) - French luxury goods and retail group PPR (PRTP.PA) is considering buying family-owned Italian tailor Brioni for about 350 million euros ($508.4 million), two sources familiar with the situation said on Wednesday.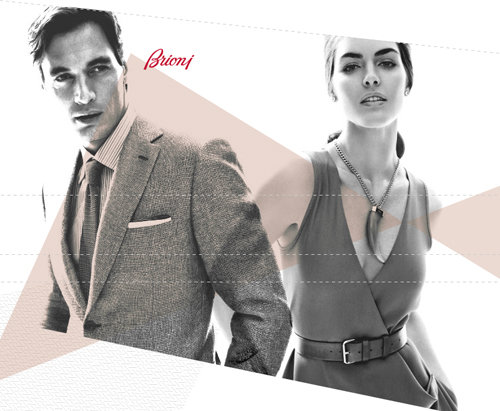 Brioni
The deal, if it goes ahead, would allow PPR to make further progress on its pledge to get out of retail and recentre on luxury and sports brands.
PPR and Brioni both declined to comment.
One of the sources said there were talks underway on a possible sale of the company, while the other source was more cautious, describing Brioni as an asset PPR has long had an eye on but adding that a takeover was "far from a done deal".
"PPR is always looking, always discussing," the second source said, describing a 350 million euro price tag as one that "makes sense in terms of the multiples".
"That it moves to a concrete deal is not always the case," the second source added. "It's a little bit divided within PPR what to do with it," the source said, adding that it was "something they are monitoring for a long time".
Earlier on Wednesday, Italian daily Corriere della Sera reported that PPR executives were in Italy "for a few days" to perform due diligence on Brioni, which is famous for designing James Bond's suits.
The newspaper said Brioni's 2010 revenue reached 190 million euros, with earnings before interest, taxes, debt and amortisation (EBITDA) around 25 percent of that.
Corriere did not cite a price for the company.
INVESTOR SEARCH
Foreign bids have been a sensitive issue in Italy after jewellery group Bulgari (BULG.MI) was bought by French group LVMH (LVMH.PA) this year. French dairy group Lactalis also sealed a takeover of Parmalat (PLT.MI), Italy's biggest listed food group.
A financial advisor specialised in luxury said a price tag of 350 million euros would probably include the company's 90 million of debt, which would imply an equity value of 260 million.
The net figure of 260 million euros would value the business at around 12 times Brioni's estimated 2011 earnings of 22 million euros. Such a valuation would put Brioni roughly in line with recent deals in the luxury sector and with Hugo Boss (BOSG_p.DE), two luxury bankers said.
Brioni has been looking for external investors since 2008 but the process was torpedoed by the 2009 spending downturn. Back then, the sale, which was run by BNP, was for a minority stake.
The company abruptly parted ways last year with its chief executive, Andrea Perrone, grandson of Brioni co-founder Gaetano Savini, and appointed Francesco Pesci, who had been with Brioni since 2007.
Brioni has been weakened by internal disputes between the three family branches on how to take the business forward which is why it decided to enter talks with potential investors again.
($1=.6884 Euro) (Additional reporting by Pascale Denis and Michel Rose) (Editing by James Regan)

© Thomson Reuters 2023 All rights reserved.