Prada IPO five times subscribed: source
June 12 - Italian fashion house Prada, which is seeking to raise up to $2.6 billion through a Hong Kong IPO, has generated five times demand for its offer, a source familiar with the matter told Reuters on Sunday.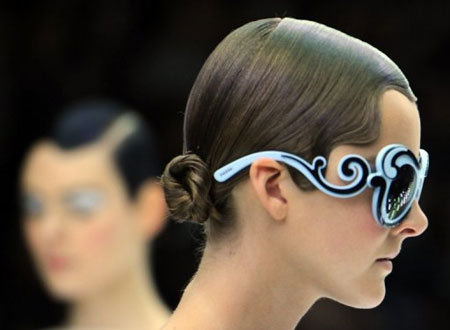 Sunglasses by Prada (Photo: AFP)
The source declined to say which institutions have committed funds to the IPO or at what price point was the book covered. The information was based on road shows up to last Thursday, the source added.
The Milan fashion house, known for its leather handbags, brightly-colored shoes and long boots, launched the retail portion of the IPO on Sunday.
It set an indicative price range of HK$36.5 ($4.69) to HK$48 ($6.17) a share for the IPO, confirming a Reuters story issued last week. That values the company between $11.4 billion and $14.6 billion.
The source declined to be indentified as the information is not public. A Prada spokesman declined to comment.
Strong demand for Prada's initial public offering comes at a time when investors have balked at some recent Hong Kong offers amid choppy stock markets.
"Despite recent market volatility, the Prada team is very optimistic (about the IPO)," Prada's Chief Executive Patrizio Bertelli told reporters via video conference link from Milan.
A successful IPO will make it the first Italian company to float in Hong Kong, adding to the growing list of consumer brands seeking to list here.
However, fragile market sentiment has weighed down on some recent offerings, with luggage maker Samsonite International SA pricing its $1.25 billion IPO at the bottom of a revised price range, while startup Australian miner Resourcehouse pulling its $3.6 billion sale.
"We are not worried at all, just a little tired from the road show," said Carlo Mazzi, deputy chairman of Prada said. "We are not worried or stressed about the offering."
After scrapping several attempts to list its shares in the past, Prada is offering 16.5 percent of its enlarged capital, or 423.3 million shares. At the top end of the range, the IPO is being priced at 27 times projected 2011 earnings, higher than the average of European top luxury groups such as Tod's, Burberry, and LVMH.
Some investors expect the IPO to be priced at the middle of the indicative range due to skittish sentiment.
The Prada management said the IPO price range was reasonable and represents the value in the company. It did not share the view that the offer was expensive.
A successful IPO -- designed to cut Prada's debt of around 1 billion euros and fund further expansion in Asia -- would make Prada one of the most valuable luxury goods groups, but some fund managers balked at the price range.
Prada, 95 percent owned by the families of Chief Executive Bertelli and his fashion designer wife Miuccia Prada, is betting on a boom in the consumption of luxury items in China, the world's second-largest economy, to lure investors to the IPO.
China will account for 20 percent of the global luxury market by 2015, consulting firm McKinsey & Co says.
The IPO is slated to be priced on June 17 and the shares will start trading in Hong Kong on June 24 under the symbol "1913," the year the company was founded in Milan.
The 423.3 million shares are being sold by Prada and shareholders Prada Holding BV and Intesa Sanpaolo.
Prada started its business in 1913, when Mario Prada began selling leather bags, trunks and silverware to the European elite from his store in Milan's Galleria Vittorio Emanuele.
The company has since expanded throughout Europe, the United States and Asia to include mobile phones, perfumes and eyewear.
Profit more than doubled in the year ended January 2011 to 235.6 million euros. Prada said in a Hong Kong filing on Friday it expected half-year profit to rise 46 percent.
Goldman Sachs, Credit Agricole's CLSA brokerage and Italian banks UniCredit SpA and Intesa Sanpaolo's Banca IMI unit, both on Prada's board, are joint bookrunners and global coordinators of the IPO.
(Reporting by Denny Thomas; Editing by Hans Peters)
© Thomson Reuters 2022 All rights reserved.