Puma wins appeal over Spanish rights payment
June 17 - An end to a long-running row over trademark rights in Spain for German sportswear maker Puma is not in sight even after it successfully appealed payment of 98 million euros ($139 million).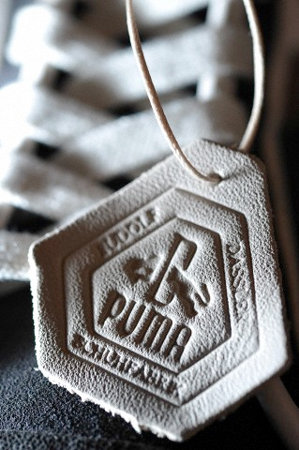 A Puma logo in Retro design is fixed to a sports shoe in a Puma store (Photo: Corbis)
Puma, controlled by French luxury goods group PPR, is looking to reclaim sole branding rights from Estudio 2000 SA, its former licensing partner in Spain.
A court had previously ruled that Puma could reclaim the rights only upon payment of the 98 million euros.
Puma said last year it was not prepared to pay this amount, which is equivalent to almost half of its 2010 net earnings of 202 million euros.
The group said on Friday the district court of Madrid has now repealed the ruling on the one-off payment, and it will now take action to wrest the remaining rights from Estudio.
"We will now make full use of all the options available to us to secure all Puma trademark rights in Spain," outgoing Chief Executive Jochen Zeitz said on Friday.
A spokeswoman said those options could include a new arbitration process.
Shares in the group, the world's third largest sportswear company behind Nike and local rival Adidas, were down 0.4 pct at 202.85 euros at 0806 GMT, against a 1.3 percent drop in the mid-cap index .MDAXI.
(Reporting by Victoria Bryan and Christian Kraemer)
© Thomson Reuters 2023 All rights reserved.