Roger Vivier launches e-store
With never any publicity and a very exclusive distribution, limited to less than 10 boutiques and hardly any points of sale across the world (only at Saks and Harrods), Roger Vivier has always maintained an image of luxury and discretion. It thus came as a bit of a surprise when the fashion house announced that it was opening an online store in September, named 'Vivier de Vivier'. However, any suspicions that the label might be taking a different strategic direction are put to rest as soon as you find out what the new website has to offer: the most iconic pieces designed by Bruno Frisoni, the brand's creative director since 2004.


Roger Vivier's e-store, available in September 2011
In other words, the new e-store is going to be even more exclusive than the Roger Vivier boutiques as it will not sell any of the current collections, but rather only the best shoes and leather goods from past seasons that would be of interest to collectors. The brand has aimed to create the same "Roger Vivier experience" and the top-notch service that clients would get when shopping at the actual stores.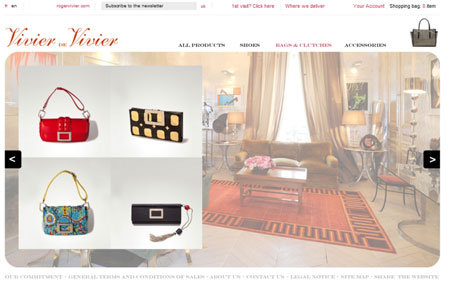 'Vivier de Vivier'
The newly-updated Roger Vivier website, which will host the e-shop as of September, is now also offering the new 'Rendez-Vous' line that was presented for the first time at the Paris Couture Week. Falling somewhere in between ready-to-wear and couture, in terms of style and price (ranging from 2 to 10 thousand euros), the new capsule collection consists of a very limited edition of shoes and handbags, from as little as 1 to 15 pieces. Each new season, this being the third one, thus sees the arrival of a new round of this mini-collection at Roger Vivier's main boutiques spread across Hong Kong, Paris, London, Milan, New York, Shanghai (recently opened in October 2010), Taipei, etc.
Copyright © 2022 FashionNetwork.com All rights reserved.