Stella McCartney puts pyjama party feel into summer
PARIS | Mon Oct 3, 2011 - Stella McCartney wove a playful pyjama party feel into her spring-summer 2012 collection on Monday with a breezy array of silk tunic dresses and loose-fitting print pant suits that could be effortlessly slipped into for a lazy country picnic.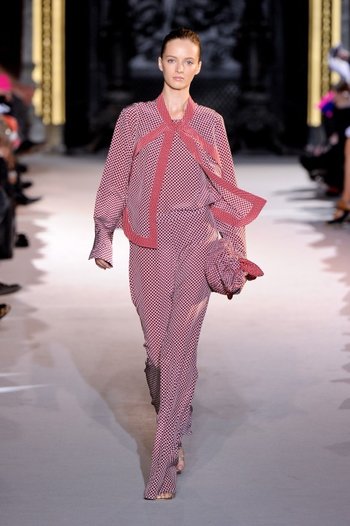 Stella McCartney - SS 2012 / Photo: Pixel Formula
Demure, pretty and overwhelmingly understated, body-skimming mid-thigh day dresses in crepe de chine silk used retro wave motifs or mixed different Paisley prints, some scaled up in size, in Wedgewood blue or burgundy on white that harked back to 1940s night wear.
Swirly side-edges of embroidered cord, curling hemlines, feminine lace panels and airtex mesh cut-outs played with an exposed shoulder or legs, or gave a teasing glimpse of midriff.
Body-contouring all-in-one stretch silk trouser suits looked weightless, effortless and deliciously lazy. McCartney's comfortable look and feel echoed Hermes's collection shown a day before on Sunday which featured long, simple and ample tunics.
"I love a jumpsuit -- it's just so easy," said McCartney, who brought her three young children backstage for the show.
"It's very much a celebration of the season," she said. "I tend to do prints, I'm a lover of prints, but for this season we wanted to use quite familiar nondescript prints and play with their scale and have them as a way of introducing colour."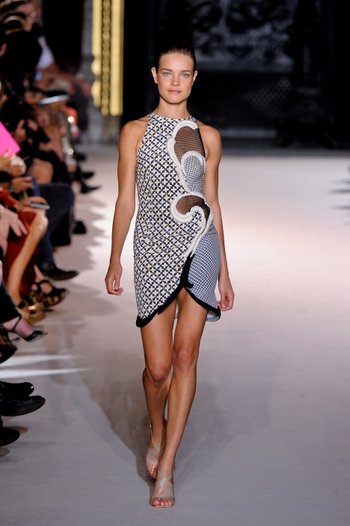 Stella McCartney - SS 2012 / Photo: Pixel Formula
Fabric shoulder bags and outsized sunglasses with circular lenses in square frames were in prints that matched the outfits, and bare-faced models, headed by Natalia Vodianova and Miranda Kerr, wore their hair scraped back in no-nonsense buns.
Shoes were simple nude heels or easy flat sandals.
Textures were created using Habotai silk, constructed in roule ribbons then loosely hand-woven; Jacquard patterns and Bouillard spots lent an air of the old-fashioned classic.
"I loved it, as always. She manages to get in so much detail but it stays relaxed," Mexican actress Salma Hayek told Reuters after the show at the opulent Paris Opera theatre.
Paul McCartney was also full of praise. "I loved the show. It's very beautiful," he told Reuters backstage, where he earlier snuck a kiss with his fiancée Nancy Shevell, who said she gave the collection a "double-thumbs up".
The former Beatle is due to wed for the third time and hinted his daughter may have had a hand in his suit. "Well, she makes 'em," he said with a grin when asked if Stella had designed what he will wear to tie the knot.
Despite the gloom hanging over the fashion world, as the world struggles to break out of an economic slump, Stella McCartney Ltd saw profits surge 34 percent in 2010 as sales rose 20 percent, Womens Wear Daily áreported on Monday.
The brand -- a 50-50 joint venture with French retailer PPR whose top clients include Madonna, Gwyneth Paltrow and Annie Lennox -- uses no leather or fur in its designs.
"It's happy and sensual, always comfortable, and you feel at home in it," Hayek, at the show with her husband and PPR chief executive Francois-Henri Pinault, said of the British designer.
"I love her spirit and that she's a warrior for what she believes," Hayek said.

(Reporting By Catherine Bremer, editing by Paul Casciato)
© Thomson Reuters 2023 All rights reserved.