Swarovski launches its first fragrance
In collaboration with Clarins Fragrance Group for product development and marketing, the crystal manufacturer has created its first ever fragrance. Together with a bath and beauty line (body creams, bath gel and deodorant), as well as make-up jewels, the new fragrance named Aura will be hitting stores in April.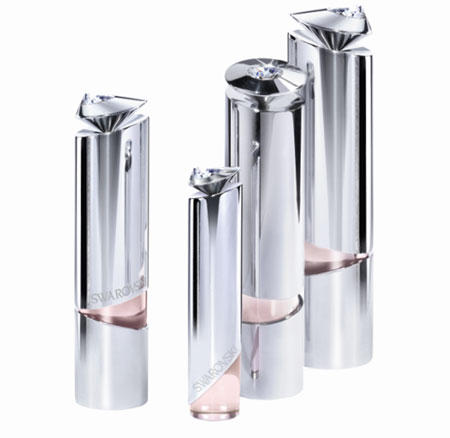 Aura, Swarovski
After 2 years of product testing and a long thought about the packaging, the launch date is finally just around the corner. A job well done for the Clarins Group who, after signing a license with Zadig & Voltaire for the new fragrance, also managed to win over Markus Langes-Swarovski with its Thierry Mugler's Angel campaign. The member of Swarovski's executive board was a key player in the new project.
With regards to the campaign, the French group was able to "push the image of Swarovski's new fragrance beyond crystals", said Joël Palix. The president of Clarins Fragrance Group added that one of the first obstacles was making the bottle, « which should not be too bling » and should have only one crystal on the top. The end product was flacon made of glass and metal, with the latter making it possible to attach the crystal.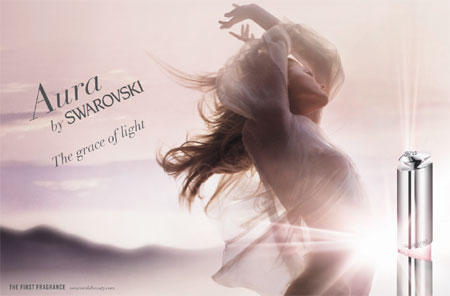 Aura's ad campaign, out in April
Aura offers a range of four refillable bottles (15 ml, 36 € ; 30 ml, 56 € ; 50 ml, 76 € ; 75 ml, 96 €). The floral scent, created at Firmenich by perfumers Jean-Pierre Bethouart and Olivier Cresp, is centered white tuberose, enriched with fruity litchi notes and a background of pink pepper. The extrait de parfum is expected to launch in 2012, as well as a line of "bijoux de maquillage" (decorative makeup jewels) and a limited edition of collectors' bottles.
As for the distribution, Aura will make its worldwide debut on the 1st of April in a selection of perfume shops ,department stores, and of course at Swarovski's own boutiques. The crystal manufacturer currently consists of 2,000 points of sale across the globe. The advertising campaign, signed by the Select New York agency, will start around same time.
Copyright © 2022 FashionNetwork.com All rights reserved.