Under Armour in deal with mixed martial arts star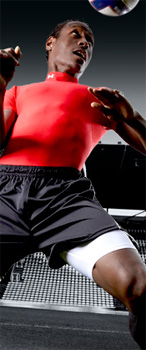 Under Armor
CHICAGO, Nov 5 (Reuters) - Under Armour Inc (UA.N) signed a multiyear deal with a top mixed martial arts fighter to endorse its underwear and other products, moving the athletic clothing and shoe maker into one of the world's fastest growing sports.
Under Armour, a smaller rival of Nike Inc (NKE.N), said Georges St-Pierre, an MMA welterweight champion, will serve as the face for the company's underwear -- one of its most popular items -- as well as for three new lines of compression-based clothing. Terms of the deal were not disclosed.
"It's not that far of a stretch," Steve Battista, Under Armour's senior vice president of brand marketing, said in a telephone interview of the move to have an MMA fighter endorse its products.
Under Armour spends about 12 to 13 percent of its annual revenue on marketing, up from 10 to 12 percent a few years ago, Battista said. The Baltimore company expects 2009 revenue in the range of $830 million to $835 million.
Last month, Under Armour posted a third-quarter profit that was ahead of Wall Street's expectations and raised its full-year outlook. However, shares slumped because the forecast implied a weaker-than-expected fourth quarter.
St-Pierre, whom Battista described as "the Michael Jordan of MMA," will be featured on in-store packaging, as well as in print, TV and Internet advertising that begins this holiday shopping season.
Under Armour also has endorsement deals with athletes in football, basketball, baseball, skiing and lacrosse.
Also this week, Under Armour announced a partnership with sports, entertainment and media company IMG to develop a scoring system to measure athletic performance for youth to college-aged athletes.
Terms of the revenue-sharing deal were not disclosed. However, leveraging IMG's global reach the companies will host more than 100 combines -- where athletes are tested across multiple sports over one to three days -- up from 30 this year when only Under Armour hosted them. (Reporting by Ben Klayman, editing by Matthew Lewis)
© Thomson Reuters 2023 All rights reserved.